With the death in April of Sir Roger Lobo, 91, another vital link to the wider story of Hong Kong's Pacific war years passed into history.
Seventy years ago last week, Lobo's brave actions significantly helped change the course of events in Hong Kong. A modest man with an extraordinarily distinguished record of public service that continued until his death, Lobo seldom mentioned his end-of-war exploit; like his equally remarkable father, legendary Macau business figure Dr Pedro Jose Lobo, Roger simply got on with what needed to be done in the public interest, effectively and without fuss.
Early August 1945 was a tense time. It was obvious that the Japanese had lost the war, but a time frame for their surrender was deeply uncertain. It was by no means guaranteed that Japanese troops in the field actually would surrender to Allied forces, even if ordered to do so by the authorities in Japan. From Burma to the Pacific, the Japanese reputation for fighting to the death was thoroughly well-deserved; horrific experiences in Okinawa and Saipan, where the civilian population threw themselves off cliffs rather than surrender to the Americans, indicated what an Allied invasion of the Japanese home islands might look like.
In the days that followed the atomic bombings of Hiroshima and Nagasaki, action plans were made. In the case of Hong Kong, it was considered vital that the imprisoned colonial secretary, Franklin Gimson, should be sworn in as the acting governor, and reactivate the formal machinery of the British administration, as soon as a Japanese capitulation had been confirmed.
This strategy was designed to ensure that Chiang Kai-shek's Nationalists did not get to Hong Kong first. In the event, they made no attempt to do so. That it took senior Nationalist commanders - only a couple of hours away by air - more than a fortnight not to arrive, is a story that still awaits thorough examination.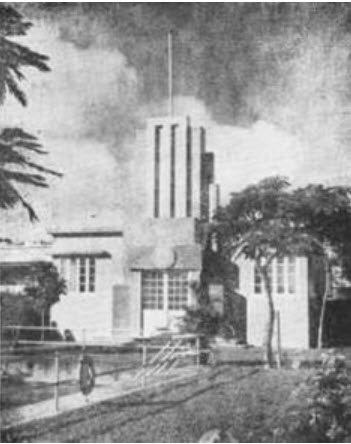 Vila Verde was the Macau holiday home of Dr. P. J. Lobo. Photo: Branca Gibbons/Orlando Lobo