However, after only nine years of operation, it was damaged by the Great Typhoon in 1874 and remained out of service until 1910. This lighthouse may have been built in an attempt to win back part of the shipping lost to Hong Kong after the British colony was established in 1841, leaving Macau almost devoid of trade. However, lacking a deep-water port and harbour infrastructure, Macau could not compete with its larger neighbour. A few years later the Hong Kong government commenced building a more important lighthouse, the Gap lighthouse, perched spectacularly on a rocky islet twenty-six miles south of Hong Kong. Completed in 1897, it had taken six years to build at the then enormous cost of $150,000. This was a huge boon to shipping approaching Hong Kong, and a very important step forward.
This did not mean that the Guia lighthouse was useless. It doubled as a weather station and being on the highest point in Macau, it was in the ideal position for signals warning of approaching typhoons. There were ten signals of different shapes, made of wickerwork and painted black. When severe conditions threatened, these signals were hoisted according to the meteorological outlook. Anything above No. 8 was serious, and No. 10 warned of an approaching catastrophe. This is actually what happened in 1874, when the Great Typhoon devastated Macau, killing thousands of people. Among the many buildings that had to be rebuilt was the lighthouse itself, though the sturdy chapel survived the tempest.
The vast casinos of modern Macau dwarf all its ancient buildings, crowding around them and towering over many. Guia, often neglected and less visited than the other iconic and more accessible World Heritage sites, deserves more attention than it receives.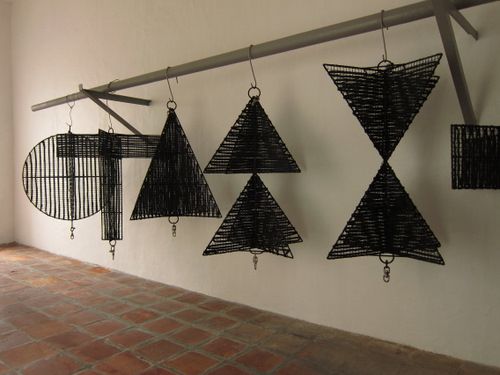 Typhoon signals, Guia lighthouse. These are the same as those formerly used in Hong Kong, though their use was discontinued there in 2002.
No. 1 signal, a warning, is the large 'T' on the left. No. 10, a large cross, is just out of the photograph on the right. The other two signals are No. 8 (left) and No. 9 (right).